Urban Tails is OPEN for local delivery, curbside pickup, and in-store shopping! Welcome back!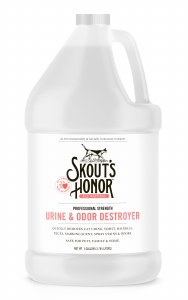 Skout's Honor 1 Gallon Urine & Odor Destroyer - Cat
$39.99
Quickly removes cat urine, vomit, hairball, feces, marking scent, spray stains & odors! Safe for use on rugs, carpets, upholstery, clothing and other porous & water-safe surfaces.
INGREDIENTS: Deionized Water, BioKore™ (Plant-Based Surfactant), Biodegradable Molecular Complex (Mineral-Based Deodorizer), Plant-Based Fragrance

STEP 1
Saturate soiled area and 1 - 2" perimeter with product. For carpets and upholstery, make sure to saturate backing and padding.
STEP 2
Wait 5 minutes, then remove excess moisture with a colorfast cloth or paper towel. For textiles, blot or vacuum with wet-vac for best results.
STEP 3
Allow product to dry naturally & completely before children or pets re-enter the area. A second application may be necessary for dried or stubborn stains.