Urban Tails is OPEN for local delivery, curbside pickup, and in-store shopping! Welcome back!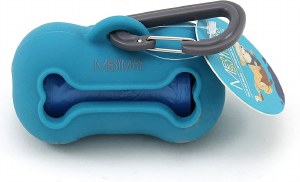 Messy Mutts Blue Wastebag Holder
$6.99
Walk your messy mutt. Keep the outdoors clean.

Clean up anywhere and anytime with our handy and sanitary bag holder. The integrated star-shaped slit allows for easy removal of bags without any fumbling or mess.

Features:
Holds 15 bags.
Clip easily hooks onto leash, keychain and other common items equipped with loop end.
Made from 100% silicone.
BPA Free. PVC Free.