Urban Tails is OPEN for local delivery, curbside pickup, and in-store shopping! Welcome back!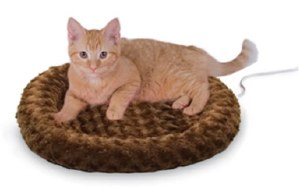 K&H Thermo Indoor Kitty Bed - Brown
$55.99
Indoor use
18" diameter
consumes only 4 watts
Heats to your cat's standard body temperature when being used

Description
The perfect bed for the cool cats in your house, the Thermo-Kitty Fashion Splash comes in two colors and includes a 4-watt Pet Bed Warmer.

This heated cat bed is designed for indoor use and is machine washable. It's also MET listed and includes a 1-year warranty.

Important Safeguards:

Consult your veterinarian before use with young puppies/kittens, convalescent pets, during surgery/surgery recovery, or any animal that cannot voluntarily remove themselves from the heated pad. K&H recommends using ONLY the Deluxe Lectro-Kennel Heated Pad for these animals as this pad has an adjustable thermostat.
Do not place pad in confined area where the pet does not have the ability to remove themselves from the pad. Always allow your pet enough space to be able choose if they want to rest on the pad or off the pad.
Care & Instructions
Washing Instructions

Unplug and remove the internal Pet Bed Warmer. Wash on the gentle cycle with cold water. Line dry or use the no-heat cycle on your dryer.

Testing Your Thermo-Kitty Fashion Splash

You can test the bed by placing a large pillow on top of it. After about 20 minutes, feel under the pillow. It will feel warm, not hot. DO NOT use an extension cord during this test.

The surface of the bed will be about 15°F above ambient air temperature until the pet lies on the bed. Then it will warm to about 102°F, which is the natural body temperature of dogs and cats.