Urban Tails is OPEN for local delivery, curbside pickup, and in-store shopping! Welcome back!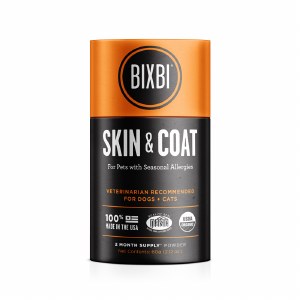 BIXBI Skin & Coat Supplement 60g
$24.99
BIXBI Skin & Coat Supplement

SUPPORTS A COAT SO HEALTHY, SEASONAL ALLERGIES DON'T STAND A CHANCE.

Some of the most common skin and coat issues among pets are actually the result of immune system imbalances. Which is why BIXBI Skin & Coat is formulated to support both your pet's immune system and their fur. The organic mushrooms in this formula are rich in polysaccharides and have been shown to promote healthy immune responses to external stress. In fact, beech mushrooms are so widely known for their beneficial properties, that they're often used in human skincare lines. If seasonal allergies get under your pet's skin, BIXBI Skin & Coat is a great way to fight back.

Ingredients:
Organic Cordyceps, Organic Coriolus Versicolor, Organic King Trumpet, Organic Maitake, Organic Reishi, Organic Beech.