Urban Tails is OPEN for delivery and curbside pickup! Due to COVID-19, we are not allowing customers to shop in-store. We ask that you place your orders online and we thank you so much for supporting our business during this crazy time! Delivery orders must meet a $30 minimum purchase.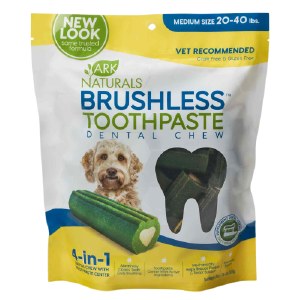 Ark Naturals 18oz Medium Brushless Chews
$27.99
20-40 lbs
Parents and their pets everywhere love our tried-and-true brilliant formulas. Our 4-in-1 Brushless Toothpaste dental dog chews do more than freshen breath (which they definitely do). They have a unique toothpaste center, surrounded by a harder outside layer to abrasively clean teeth and mechanically help reduce plaque and tartar buildup. Not to mention, they are packed with wholesome, human grade ingredients that are low calorie and easy to digest. Treat your teeth twice a day, just like your human brushes their teeth!

Complete your pup's dental regimen with our Plaque Zapper and Joint Rescue for optimal dental care.