Urban Tails is OPEN for delivery and curbside pickup! Due to COVID-19, we are not allowing customers to shop in-store. We ask that you place your orders online and we thank you so much for supporting our business during this crazy time! Delivery orders must meet a $30 minimum purchase.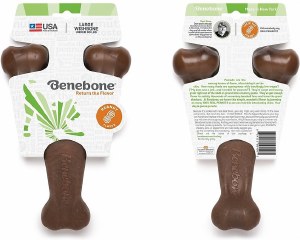 Benebone Jumbo Peanut Butter Wishbone
$18.99
Benebone Wishbones come in three different sizes – MINI, REGULAR, and JUMBO.

In the end, weight is only a rough guide to sizing, and cannot replace the monitoring of a dog's chewing habits. When in doubt, choose the larger size chew toy for safety's sake.