Urban Tails is OPEN for delivery and curbside pickup! Due to COVID-19, we are not allowing customers to shop in-store. We ask that you place your orders online and we thank you so much for supporting our business during this crazy time! Delivery orders must meet a $30 minimum purchase.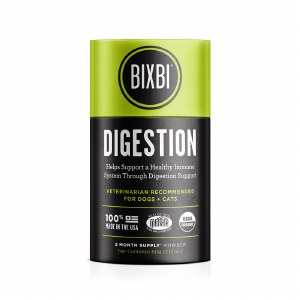 BIXBI Digestion Supplement 60g
$24.99
SUPPORTS HEALTHY GASTROINTESTINAL AND IMMUNE SYSTEM RESPONSES

Poor digestion can be the result of a weakened immune system. And that's why BIXBI Digestion is made with organic mushrooms, alpha and beta glucans, polysaccharides and terpenes that help support healthy GI enzymes. This blend is especially recommended for pets with gastrointestinal disturbances—like gas, bad breath and loose stool due to environmental stress or changes in diet. By supporting healthy GI enzymes, BIXBI Digestion encourages normal inflammatory responses and supports your pet's entire immune system.

Ingredients:
Organic Lion's Mane, Organic Maitake, Organic Shiitake, Organic King Trumpet, Organic Cordyceps, Organic Oyster, Organic Coriolus Versicolor.