Urban Tails is OPEN for delivery and curbside pickup! Due to COVID-19, we are not allowing customers to shop in-store. We ask that you place your orders online and we thank you so much for supporting our business during this crazy time! Delivery orders must meet a $30 minimum purchase.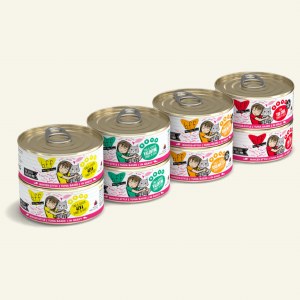 BFF 8 Can Variety Pack 5oz
$11.99
BFF 8 Can Multipack, 2 cans of Each Variety 5.5oz

Includes:
Tuna Too Cool Recipe in Aspic
Tuna & Pumpkin Valentine Recipe in Gravy
Tuna & Salmon Soulmates Recipe in Aspic
Tuna & Chicken 4EVA Recipe in Gravy

BFF is produced in a facility that also produces food for people. The factory operates at international human food processing standards, including that of the super-strict British Retail Consortium (BRC), and the pet food processing must pass BRC scrutiny.